 
Italkero Etna
Decorative Gas Brazier
€679.00
€556.56 tax excl.
LPG / CNG - 7.3 kW
Safety for Overturning
Exteriors - Flame in sight
MPN:
ET07M0 L0002
Italkero Etna - Decorative Visible Flame Heater
Italkero Etna is a gas brazier unmistakable charm, perfect for making the special 'external environment of your room or your restaurant.
Its linear and minimal shape adapts to any furniture , the visible flame makes this decorative heater particularly appreciated for its design and for the pleasant heat produced.
Versatile and comfortable mushroom, Italkero Etna is easy to move because it is installed on wheels with safety lock .
Functional specifications
Portable on 4 wheels
Italkero Etna is mounted on 4 wheels with locking system , for safe use.
Black powder coating
The structure of the Italkero Etna heating mushroom is in steel , black powder coated .
Pleasant flame on sight
Thanks to the transparent glass structure , the flame is visible from the 4 sides of Italkero Etna. This decorative Italkero burner features glass beads or lava stone .
Gas heating
Butane , Propane or LPG . This heating mushroom for the winter season is CE approved .
Examples of use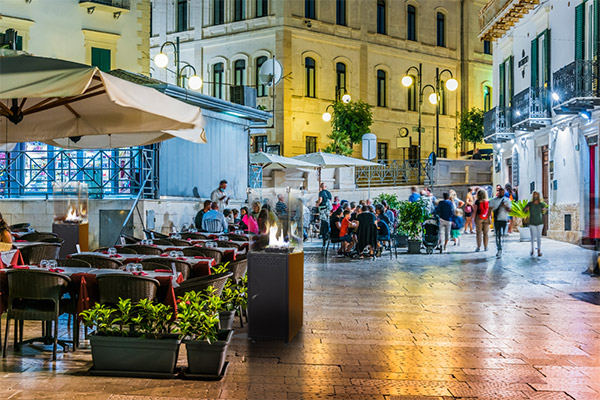 Watch the video
Features
Decorative gas brazier

To beautify and heat outdoor environments - restaurants, bars, clubs and private homes
Installed on 4 wheels with safety lock
Structure in aluminum
Painted in black powder
Transparent glass structure - visible flame
Glass beads or lava stone
Standard Equipment
Lava rock and glass gems
Anti-overturning safety device with automatic gas supply block
Wheels for moving
Manual control, various power levels
| | | | |
| --- | --- | --- | --- |
| Category | I 3 | I 3B / P (30) | I 3B / P (50) |
| Gas type | Butane / Propane | LPG | LPG |
| Pressure | 28- 30/37 mbar | 28 - 30 mbar | 50 mbar |
| Power | 7.3 kW | 7.3 kW | 7.3 kW |
| Usage | External | External | External |
| Gas connection | ITA hose connector, DE 3/8, F1 / 2 | ITA hose connector, DE 3/8, F1 / 2 | ITA hose connector, DE 3/8, F1 / 2 |
| Safety | Anti-overturning - Pilot Flame - Gas Flow Control | Anti-overturning - Pilot Flame - Gas Flow Control | Anti-overturning - Pilot Flame - Gas Flow Control |
| Tested | YES | Yes | Yes |
| Accessories | Coverage | Coverage | Coverage |
| Dimensions | 43 x 43 x 13 cm | 43 x 43 x 13 cm | 43 x 43 x 13 cm |
| Weight | 35 kg | 35 kg | 35 kg |
| | | | |
| --- | --- | --- | --- |
| Category | I 3 | I 3B / P (30) | I 3B / P (50) |
| Gas type | Butane / Propane | LPG | LPG |
| Pressure | 28- 30/37 mbar | 28 - 30 mbar | 50 mbar |
| Power | 7.3 kW | 7.3 kW | 7.3 kW |
| Usage | External | External | External |
| Gas connection | ITA hose connector, DE 3/8, F1 / 2 | ITA hose connector, DE 3/8, F1 / 2 | ITA hose connector, DE 3/8, F1 / 2 |
| Safety | Anti-overturning - Pilot Flame - Gas Flow Control | Anti-overturning - Pilot Flame - Gas Flow Control | Anti-overturning - Pilot Flame - Gas Flow Control |
| Tested | YES | Yes | Yes |
| Accessories | Coverage | Coverage | Coverage |
| Dimensions | 43 x 43 x 13 cm | 43 x 43 x 13 cm | 43 x 43 x 13 cm |
| Weight | 35 kg | 35 kg | 35 kg |