 
OKLIMA SK 60 C
Industrial Electric Stove Rarely Used
Biemmedue
€379.00
€310.66 tax excl.
| | | |
| --- | --- | --- |
| or in 3 rates from 126.33 € with | | |
| or in 3 rates from 126.33 € with | | |
library_add more options
Electric 400V - 15 kW
Integrated thermostat
57 x 28 x 51 cm - 2000 m³/h
Warranty 2 years
15 days to return
You can choose the Secure Payment method you prefer
Oklima SK 60 C - Industrial Electric Stove
Oklima SK 60 C is a little used industrial electric stove, fully functional. It has some small aesthetic defects indicated in the photos. 2 year warranty.
Oklima SK 60 C Industrial Electric Stove is a small professional/industrial electric hot air generator, powered by 400V electricity. In fact, in place of the burner there are electrical resistances which guarantee the heating of the air conveyed by the fan.
This feature makes them suitable for use in any condition, including closed rooms. Its professional armored resistances allow the Oklima SK60 C heater to work for an extended time without creating any problems .
It can remain lit for days without ever overheating (unlike normal heaters).
The innovative design allows you to stack the industrial heaters to increase their power and range when required.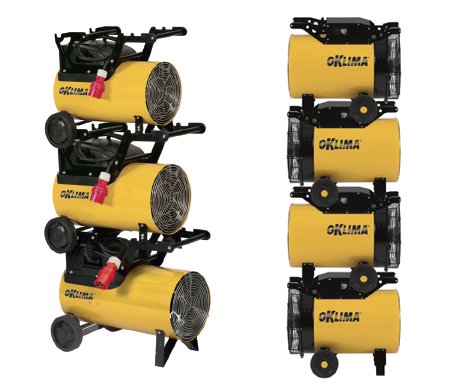 Oklima heaters are produced by the renowned Biemmedue company, Made in Italy, guaranteeing quality and reliability for comfortable and efficient environments.
Characteristics
AISI 321 armored electrical resistances
Built-in room thermostat
High air flow
Overtemperature thermostat
Power selector
Double power
Power cable 1.5 meters
Possibility of stacking
Front grille in stainless steel
Can be ducted up to 6 m
Fields of application
Technical data
| | |
| --- | --- |
| Power Supply | 400V |
| Nominal power | 10 ÷ 15 kW |
| Thermostat | Integrated thermostat |
| Air Flow | 2000 m³/h |
| Yield | 100% |
| Thermal jump at 20°C | 54.3 - 35°C |
| Dimensions | 57.5 x 27.7 x 51.1cm |
| Weight | 15 Kgs |
Technical data
| | |
| --- | --- |
| Power Supply | 400V |
| Nominal power | 10 ÷ 15 kW |
| Thermostat | Integrated thermostat |
| Air Flow | 2000 m³/h |
| Yield | 100% |
| Thermal jump at 20°C | 54.3 - 35°C |
| Dimensions | 57.5 x 27.7 x 51.1cm |
| Weight | 15 Kgs |
Our Reputation
5.0
from 18174 reviews
check by yourself
4.8
from 913 reviews
check by yourself
4.6
from 122 reviews
check by yourself