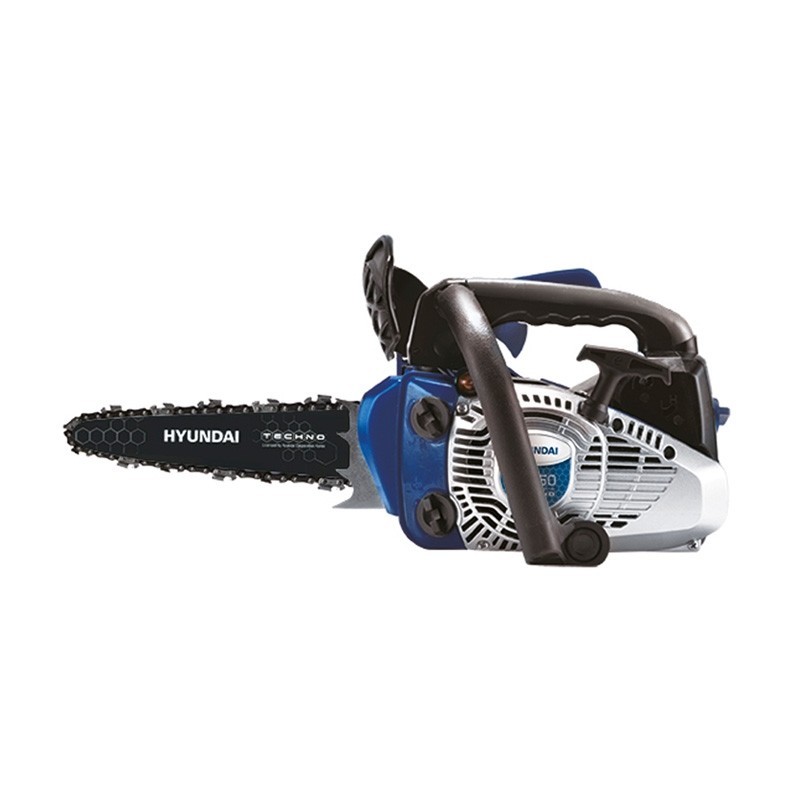  
Hyundai 35050
Used Carving Chainsaw
€131.90
€108.11 tax excl.
| | | |
| --- | --- | --- |
| or in 3 rates from 43.97 € with | | |
| or in 3 rates from 43.97 € with | | |
library_add more options
25.4 cc - 1.2 HP
Carving bar 25 cm
2 STROKE MIXTURE
Warranty 2 years
15 days to return
You can choose the Secure Payment method you prefer
Hyundai 35050 - Used Compact Chainsaw
Hyundai 35050 compact chainsaw used and in perfect working order.

2 year guarantee.
The Hyundai 35050 is a pruning chainsaw equipped with a Euro 5 two-stroke engine of 25.4 cc and 1.2 HP. The peculiarity of this model is the presence of a 25 cm carving bar , ideal for pruning, fine work and for carving; thanks to its shape it is in fact very handy and allows you to easily slip between the branches without the risk of damaging those next to it.
The chainsaw has been developed with a plastic and aluminum structure that gives it great lightness and is equipped with a double handle with soft grip handle to provide maximum comfort during use; There is also a Walbro carburetor that guarantees exceptional performance control, an anti-vibration system to ensure stability during use, the Hyundai Primer system to facilitate cold starting and an adjustable lubrication system . The Hyundai 35050 chainsaw is supplied complete with chain and maintenance kit.
Features
Euro 5 engine
25 cm carving bar
Modern and ergonomic design
Soft grip handle
Anti-vibration system
Walbro carburetor
Low weight
1.2 HP air-cooled 2-stroke engine
Hyundai Primer System for easy cold starting
Watch the videos
Guide to assembling the chainsaw
Guide to starting the chainsaw and any post-flooding restoration
Endowment
Carving cutter bar
Cutter bar cover
Chain
Tank
Maintenance kit
Instruction booklet
Technical data
| | |
| --- | --- |
| Displacement | 25.4 cc |
| Power | 1.2 HP |
| Fuel | 2.5% blend |
| Bar Length | 25 cm |
| Cutting diameter max | 200 mm |
| Fuel Tank Capacity | 230 ml |
| Oil tank capacity | 21 ml |
| Carburetor | Walbro membrane |
| Dimensions | 27 x 24 x 23 cm |
| Weight | 3.5 kg |
Technical data
| | |
| --- | --- |
| Displacement | 25.4 cc |
| Power | 1.2 HP |
| Fuel | 2.5% blend |
| Bar Length | 25 cm |
| Cutting diameter max | 200 mm |
| Fuel Tank Capacity | 230 ml |
| Oil tank capacity | 21 ml |
| Carburetor | Walbro membrane |
| Dimensions | 27 x 24 x 23 cm |
| Weight | 3.5 kg |
Our Reputation
5.0
from 18174 reviews
check by yourself
4.8
from 913 reviews
check by yourself
4.6
from 122 reviews
check by yourself