Emilio Plus Professional Steam Cleaner
New and fully functional machine, however, it has some dents on the barrel, a damaged label and a small scratch on a plastic part. 2 year guarantee.
Bieffe Farinelli EMILIO PLUS is a cleaning and sanitizing machine equipped with a 2.8 Lt steam generator with automatic boiler refill and suitable for cleaning small rooms, bars, offices and apartments.
The Bieffe Farinelli EMILIO PLUS steam cleaner is a compact multifunction steam generator, designed for cleaning and disinfection.
Thanks to its power it guarantees a professional result in cleaning windows, hoods, carpets, marble floors, laminate floors, sanitary ware, metal surfaces and tiles.
With Bieffe Farinelli EMILIO PLUS it is possible to sanitize any surface both in private homes and in small hotels, in the kitchens of canteens and restaurants, in the changing rooms of fitness centers and much more.
Features Bieffe Farinelli Emilio Plus
steam generator
suction function
automatic water supply in the boiler
cleaning accessory kit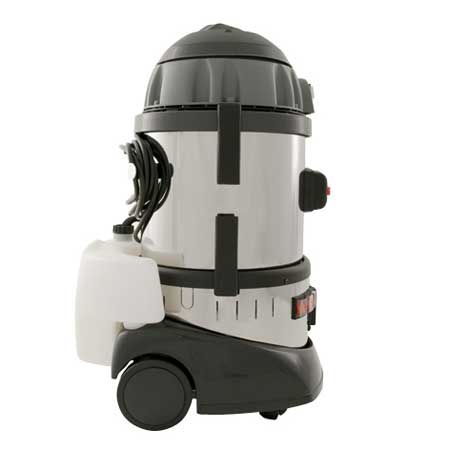 Accessories supplied

Injection / extraction accessory holder

Brush d.20mm for CVAC PVC

140mm upholstery nozzle

Brush for extraction radiators

Lance ø36 in black moplen

Round brush diam. 60mm in black moplen

Squeegee nozzle asp / vap 150mm

Wiper frame rubber 150mm NY.NE. - G2

Squeegee frame with 150mm PVC bristles

Asp | vap nozzle 300mm black

300mm rubber frame

Bristle frame 300 mm

300mm skate frame

Extension 440 mm

Asp / vap handle Bieffe 2 mt

Complete suction filter

KONFORT steam handle 2 mt

Konfort steam lance curved 30 °

PVC brush diam. 20mm for MGK04
Specifications Emilio Plus
| | |
| --- | --- |
| Supply | 220-240V |
| Boiler | 2.8 liters |
| Boiler power | 2000 W (2SI1000) |
| Steam temperature | 165 ° |
| Vapor Pressure (in BAR) | 4.8 |
| Productivity (kg of steam / hour) | 2.6 |
| Suction power | 1200 W |
| Number of aspirators | 2 |
| Extractor power (mc / h) | 203 |
| Detergent temperature | - |
| Removable water tank | 4 liters |
| Removable detergent tank | 4 liters |
| Stainless steel tank capacity | 20 liters |
| Dimensions | 360x360x650 mm |
| Weight (without accessories) | 14 kg |
| Weight (with accessories) | 18.5 kg |
| Jet of Steam | YES |
| Water / detergent jet from external tank | - |
| Automatic water refill | YES |
| Solid / liquid suction | YES |
| Simultaneous release of detergent and water. Aspiration | - |
| Simultaneous steam and suction | YES |
| Automatic alarm for lack of water in the boiler | Alarm and steam lock |
| Braked wheels | - |
| Spraying disinfectants, detergents, steam with an optional CVK36 accessory | YES |