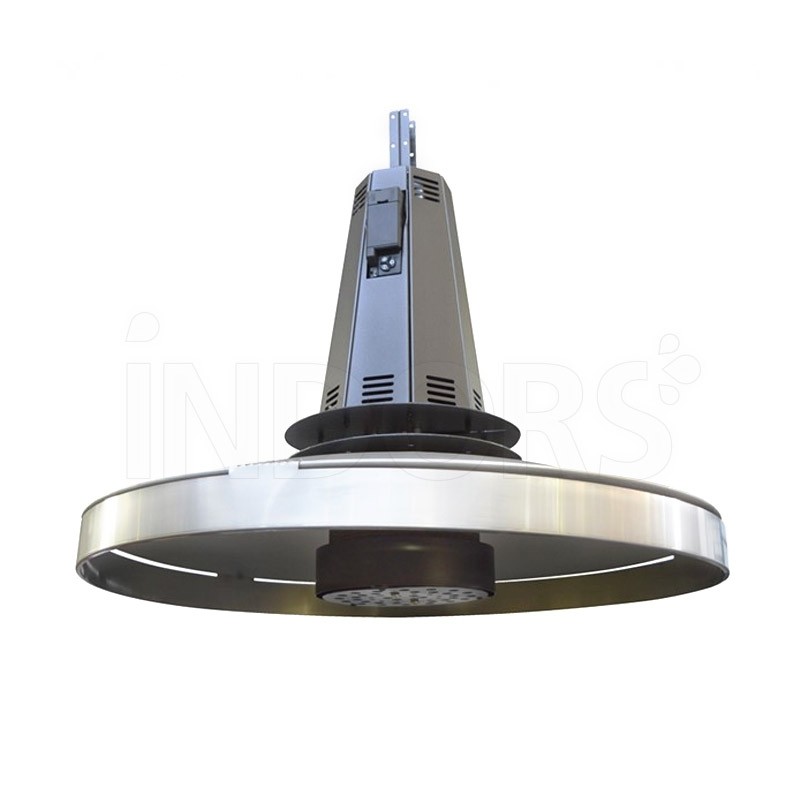  
Italkero Spider
Gas Heating Mushroom Lamp
€839.00
€687.70 tax excl.
GAS - 6.5 kW - 0.7 kg / h
For Ceiling or Wall
Exteriors
Italkero Spider - Gas Heating Mushroom Lamp
Spider by ITALKERO is the methane gas or LPG suspended outdoor heater. This heating mushroom is the perfect outdoor heating lamp : attractive design and safe operation , Italkero Spider releases a pleasant warmth by heating the environment below.
Professional quality product from the Italian brand Italkero specialized in gas lamps and mushrooms for heating in the winter season , Italkero Spider is a space-saving thermal mushroom, as it can be hung on the wall or ceiling , it can be placed on tables , chairs in environments frequented by the public such as bars , restaurants and terraces .
Functional specifications
Plug in heating mushroom
Italkero Spider can be assembled in an instant, thanks to the convenient plug-in function . Italkero Spider can be installed on the ceiling or on the wall.
Radiation burner
The burner of this gas lamp for outdoor heating in winter is made of a special metal fiber .
Heating lamp with remote control
Italkero Spider can be set on 7 power levels and can be conveniently controlled via remote control .
Great range of action
The heat radiated from the top of Italkero Spider widens the radius of action of the heating lamp, giving a pleasant uniform heat over the entire underlying surface.
Technical specifications
All Italkero heat generators are equipped with safety devices to prevent the risk of overheating and the shutdown device is effective against gusts of wind up to 120 km / h.
Types of Fixings
This appliance can be installed on the wall but only under fixed or movable roofs , to protect it from rain and water infiltrations that would seriously and dangerously damage it, compromising its operation in total safety. The appliance is equipped with an upper element that allows it to be anchored to a plate or structure (not supplied) already fixed to the wall.
The installation takes place:
With a tie rod : it can be used for a structure that supports the luminaire with a protrusion with respect to the wall of max 1.5 m.
With two tie rods : it can be used for a structure that supports the luminaire with a protrusion of max 2.5 m from the wall. Beyond a protrusion of 2.5 m from the wall, the installation is obviously unstable and therefore cannot be allowed for obvious safety reasons.
Standard equipment
Remote control included
Suspension attachment (16 cm)
Electric control unit, 7 power levels
| | | | | |
| --- | --- | --- | --- | --- |
| Gas Category - Inlet Pressure | 3P - 37 mbar | 3P - 50 mbar | 2E / 2H / E + -20 mbar | 2LL - 20 mbar |
| Power | 6.5 kW | 6.5 kW | 6.5 kW | 6 kW |
| Consumption Max - Min | 505 - 310 l / h | 505 - 310 l / h | 687 - 423 l / h | 738-492 l / h |
| Nominal Pressure on Injector | 36.5 mbar | 36.5 mbar | 14.2 mbar | 15.4 mbar |
| Min Pressure on Injector | 11 mbar | 11 mbar | 5.5 mbar | 7.4 mbar |
| Burner injectors | 1 | 1 | 1 | 1 |
| Main Injector Diameter | 1.25 mm | 1.25 mm | 1.98 mm | 1.98 mm |
| Pilot Burner Injector | 0.25 mm | 0.25 mm | 0.35 mm | 0.35 mm |
| Weight | 10 kg | 10 kg | 10 kg | 10 kg |
| | | | | |
| --- | --- | --- | --- | --- |
| Gas Category - Inlet Pressure | 3P - 37 mbar | 3P - 50 mbar | 2E / 2H / E + -20 mbar | 2LL - 20 mbar |
| Power | 6.5 kW | 6.5 kW | 6.5 kW | 6 kW |
| Consumption Max - Min | 505 - 310 l / h | 505 - 310 l / h | 687 - 423 l / h | 738-492 l / h |
| Nominal Pressure on Injector | 36.5 mbar | 36.5 mbar | 14.2 mbar | 15.4 mbar |
| Min Pressure on Injector | 11 mbar | 11 mbar | 5.5 mbar | 7.4 mbar |
| Burner injectors | 1 | 1 | 1 | 1 |
| Main Injector Diameter | 1.25 mm | 1.25 mm | 1.98 mm | 1.98 mm |
| Pilot Burner Injector | 0.25 mm | 0.25 mm | 0.35 mm | 0.35 mm |
| Weight | 10 kg | 10 kg | 10 kg | 10 kg |