 
Italkero Dolcevita LightFire
Mushroom Gas Heater
LPG / METHANE - 6.4 ÷ 12 kW - 0.87 kg / h
Led lights and remote control
Exteriors - Flame in sight
MPN:
LF12M2 L0000
Italkero Dolcevita LightFire
Dolcevita Italkero Lightfire outdoor heating lamp
Lamp for external heating working with natural gas or LPG.
The product contains all the know-how of Italkero, the undisputed leader in the production of individual sealed chamber gas stoves.
The Lightfire DolceVita lamp by Italkero can be combined with gas mushrooms, and helps to heat outdoor environments in an economical and suggestive way.
The device stages the uniqueness of the fire as opposed to the common heaters currently on the market.

The evocative view of the flame , the innovative design that recalls the bonfires of the old pioneers, creates a new meeting point, cheers and enriches the scenography of the place, giving a special charm to all moments of the day.
The heat and light, thanks to the LED lighting KIT with rechargeable battery that illuminates the base of the luminaire, Lightfire Dolce Vita can also be used as an outdoor lamp.
Characteristics Italkero Dolcevita
Elegant and functional design.

Quick and easy installation, in open environments

Warm up immediately as soon as it is turned on

Available with manual control or simple and intuitive remote control (optional)

A single remote control to control all your Lightfires

LED lighting kit for the base

Transport wheels

Coffee table (optional)
Technical features Italkero LightFire lamp
Precious materials: stainless steel and steel with special anti-corrosion treatment

Three power levels selectable manually or from the remote control

Uniform heat along the entire height of the appliance (about 25 m2)

Electronic ignition

Accessories included: LED lights kit, remote control, anti-tip safety device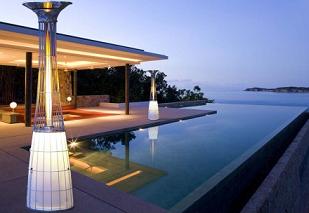 All hot air generators are equipped with safety devices to prevent the risk of overheating, as well as optimize fuel consumption (LPG) and are also designed to prevent the risk of burns while moving
Optional Accessories
Technical Data
| | |
| --- | --- |
| Power | LPG / Methane |
| Cylinder | 5 ÷ 15 kg |
| Power | 6.4 ÷ 12 kW |
| Burner | Ceramic |
| Ignition | Electronics |
| Safety Device | Thermocouple |
| LPG consumption | 0.872 kg / h |
| Methane consumption | 1,140 m³ / h |
| Dimensions | 56 x 228 cm |
| Weight | 27 kg |
Technical Data
| | |
| --- | --- |
| Power | LPG / Methane |
| Cylinder | 5 ÷ 15 kg |
| Power | 6.4 ÷ 12 kW |
| Burner | Ceramic |
| Ignition | Electronics |
| Safety Device | Thermocouple |
| LPG consumption | 0.872 kg / h |
| Methane consumption | 1,140 m³ / h |
| Dimensions | 56 x 228 cm |
| Weight | 27 kg |