 
Vinco 71300/71301
Outdoor Heater
€234.90
€192.54 tax excl.
LPG - 5 ÷ 14 kW
Safety valve
Exteriors
Mushroom LPG Gas Heater 71300 - 71301
Vinco Gas Heating Mushroom , ideal for heating all types of exteriors, with a surface area up to 25 m² using a power of 10 kW. The mushroom heater equipped with valve and safety protection, piezoelectric ignition and wheels that facilitate transport.
Available in two variants:
Vinco cod. 71300 BLACK enamelled
Vinco cod. 71301 stainless steel finish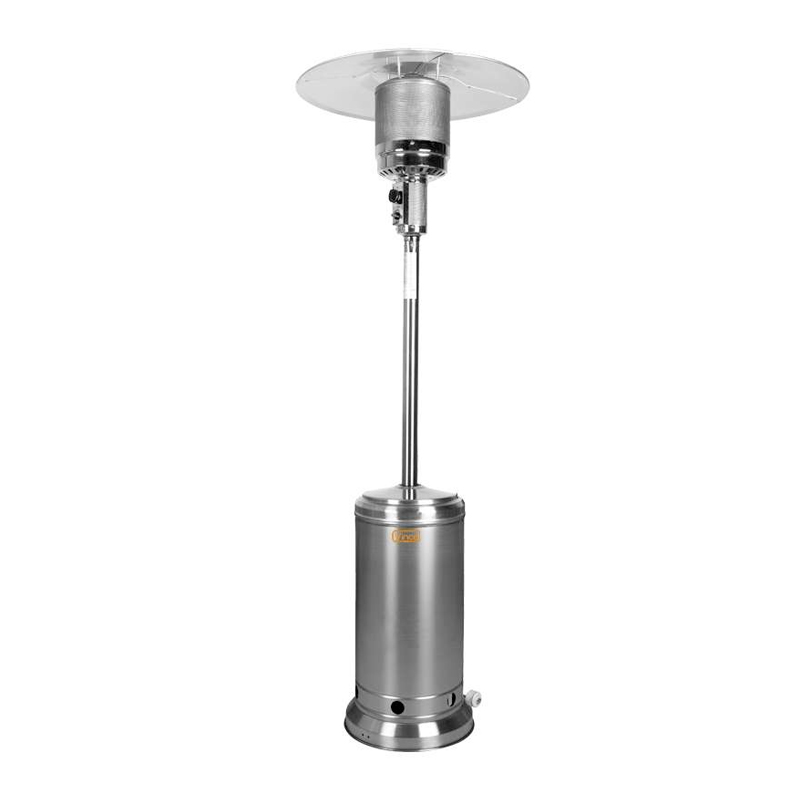 Functional specifications
Powerful outdoor heaters
Both Vinco 71300 and Vinco 71301 have a power ranging from 5 kW to 14 kW . With pinzoelectric ignition .
Safe use
These two heating mushrooms are equipped with a gas safety valve and safety protection .
Gas stove
The gas used is propane butane .
Outdoor heating
These mushrooms heat an area up to 25 m² .
Main features
Available in versions: Black enamelled or stainless steel finish
Ideal for heating outdoors, bars, restaurants etc.
Professional burner
Heats surfaces up to 25 m²
Piezoelectric ignition
Integrated Transport Wheels
Pressure regulator code 71401 (optional)
| | | |
| --- | --- | --- |
| Modello | 71300 | 71301 |
| Alimentazione | GPL | GPL |
| Accensione | Piezoelettrica | Piezoelettrica |
| Potenza | 5÷14 kW | 5÷14 kW |
| Superficie Riscaldata | 25 m² | 25 m² |
| Valvola Sicurezza Gas | SI | SI |
| Protezione di Sicurezza | SI | SI |
| Ruote | SI | SI |
| Rivestimento | Smaltato Nero | Finitura Inox |
| Dimensioni | 81 x 81 x 222,3 cm | 81 x 81 x 222,3 cm |
| Peso | 17 kg | 17 kg |
| | | |
| --- | --- | --- |
| Modello | 71300 | 71301 |
| Alimentazione | GPL | GPL |
| Accensione | Piezoelettrica | Piezoelettrica |
| Potenza | 5÷14 kW | 5÷14 kW |
| Superficie Riscaldata | 25 m² | 25 m² |
| Valvola Sicurezza Gas | SI | SI |
| Protezione di Sicurezza | SI | SI |
| Ruote | SI | SI |
| Rivestimento | Smaltato Nero | Finitura Inox |
| Dimensioni | 81 x 81 x 222,3 cm | 81 x 81 x 222,3 cm |
| Peso | 17 kg | 17 kg |