Annovi Reverberi 3460 - Household Vacuum Cleaner with Tool Socket - Cod. 51154
Annovi Reverberi 3460 is a domestic vacuum cleaner for vacuuming solids and liquids. Very compact and light weight, this vacuum cleaner is ideal for housework and in narrow places . It features a large 30 liter stainless steel collection tank and is equipped with a reliable single-stage motor .
The 3460 model is equipped with an electric tool socket; it is therefore possible to connect a work tool directly to the vacuum cleaner so that it starts together with it. This system, for example, can be used to suck up the residues of the processes while they are being carried out.
The Annovi Reverberi vacuum cleaner bin is equipped with a quick coupling and release hinges system , which allows the filter and the drum to be cleaned quickly and easily. The machine has two rear wheels with rubber treads to facilitate movement.
The Annovi Reverberi 3460 is supplied complete with numerous accessories for any eventuality, thus responding to all needs.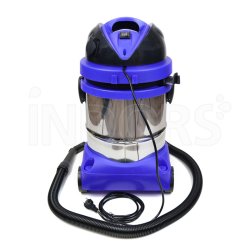 Technical features
Suction of dust and liquids
Collection drum in stainless steel
Single stage motor
Rear wheels with rubber tread
Quick hooking / unhooking hinges for filter and drum cleaning