Cryogenic Sandblasting
Cryogenic cleaning , also called dry ice cleaning , is an extremely effective, dry, non-abrasive and environmentally friendly cleaning process that can be used in various industrial areas to remove paint, dirt, grease or similar layers from the surface of materials . For some years the industry has relied on dry ice pellets for fast and incredibly effective dry ice cleaning .
Watch Cryogenic Cleaning Sample Videos
Cleaning Greasy and oily dirt
How Dry Ice Cleaning Works
From the cryogenic sandblaster tank, the pellets end up in a dosing device and then be accelerated by the compressed air emitted by a high-capacity compressor. The vacuum created in the jet gun gently sucks the pellets to accelerate them up to 300 m / s. Thanks to the high-pressure nozzles, the jet of dry ice is shot with compressed air on the surface to be treated, bringing it to a temperature of -79 ° C. Thanks to this immediate thermal effect, the layer of dirt on the surface shatters and is then removed by the next jet of dry ice.
Unlike common blasting methods, cryogenic blasting does not damage the surface to be cleaned.
The Advantages of Cryogenic Sandblasting
The main advantage of dry ice cleaning is that dry ice pellets evaporate immediately after removing the dirt from the surface. This feature makes cryogenic sandblasting a cleaning system that fully respects the surface to be treated .
no damage to the treated surfaces
cleaning speed
cleaning quality
sanitation of the treated surfaces
no chemicals
very low disposal costs
What You Need to Get Started
Compressor
starting from 1.5 m³ / min and 6 bar fixed or mobile
DIS Dry Ice System
Cryogenic sandblaster
3mm dry ice pellets
produced by the DIS pelletizer or available from gas suppliers
ISO BOX
for storing dry ice pellets
Intelblast cryogenic sandblasters
Intelblast Mini, The Compact
The Intelblast IBL Mini is a compact and cost effective cryogenic sandblaster suitable for use with low air flow compressors. The IBL Mini is the ideal choice for companies that want to have the opportunity to clean small parts and surfaces without being forced to use compressors with high air flow rates. Learn more
IntelBlast IBL3000 The Most Performing
The Intelblast IBL3000 cryogenic sandblaster was developed in close collaboration with customers who have had specific needs in many dry ice challenges. Size and simplicity combined with knowledge, strength and durability make the Intelblast IBL3000 a quality cryogenic sandblaster. Learn more
Nozzles for every use
Intelblast offers a full range of accessories suitable for every use.
Uses and Applications of Cryogenic Cleaning
Cryogenic cleaning offers the possibility to clean the most stubborn dirt with extreme ease and speed, without damaging the treated surface and without wetting it, thus becoming an extremely versatile cleaning system, capable of covering many varieties of sectors of use. Below are the main areas where dry cleaning is commonly used, and related views before and after cryogenic treatments.
A few examples
Automobile production
Car manufacturers have made dry ice cleaning a fixed part of the manufacturing process.
Chemical Industry
Containers, belt systems, dosing systems or mixers can be easily cleaned from bitumen, adhesive resins and other substances.
Remediation after fires
Cryogenic blasting is particularly suitable for buildings damaged during a fire which, if not completely destroyed, can still be restored. For this reason, cleaning with dry ice is increasingly imposed by insurance companies.
Cleaning of Air Conditioners and Kitchen Exhaust Pipes
From a hygienic point of view, keeping the filters intact is not enough. The dirt deposited in the pipes is a real breeding ground for pathogens and parasites which then spread into the air.
Synthetic Materials Industry
Effective removal of release agents and residues without heating or using chemicals. Cleaning of extruders of synthetic material, parts and molds.
Facade cleaning
Cryogenic cleaning of facades with dry ice makes sense if you have to clean a building very quickly without installing scaffolding and without using water.
Cryogenic Cleaning in Foundries
In foundries, molds must be cleaned at regular intervals. Thanks to cryogenic sandblasting it is no longer necessary to disassemble, cool and heat the molds. This considerably reduces downtime and costs for mold preparation and waste disposal.
Automotive sector
Dry ice jet cleaning is used in the automotive sector for cleaning engines, gearboxes, rims, car interiors, etc.
Cleaning of Pipes
The fields of application in this case mainly refer to small pipes, such as the production lines of the DN 12 and DN 200 sector. Thanks to cryogenic cleaning, the economic advantages are truly remarkable.
Tire production
With cryogenic cleaning in just 10 minutes, vulcanization residues (rubber) are removed from the mold without damaging it. 500% time savings.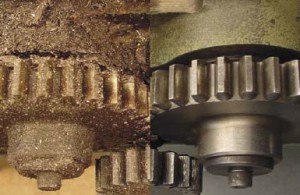 Paper Processing Machines
Thanks to cryogenic sandblasting, partially painted steel and copper pipes can be cleaned from cellulose and grease in about 3 minutes without damaging the treated surfaces. 500% time savings.
Packaging Machines
With cryogenic cleaning, adhesives, paper dust and grease are removed from aluminum surfaces and pneumatic pipes in just 3 minutes without damaging them. 300% time savings.
Printing Machines
With cryogenic blasting, printing inks and greases are removed from printing rollers and other components in approximately 30 minutes without damaging them. 500% time savings.
Plant Valves for Polyurethane Foam
With cryogenic cleaning, resins and adhesives are removed from the valves in about 1 minute without damaging them. 500% time savings.
Welding Robot
With cryogenic cleaning, smoke, welding spots and combustion residues are removed from painted and non-painted surfaces of robots in about 5 minutes without damaging them. 1000% time savings.
Painting Equipment
With cryogenic sandblasting, two-component paints are removed from the steel frames in about 5 minutes. 300% time savings.
Credit Card Production Machinery
With cryogenic sandblasting, plastic, screen colors and grease are removed from the printing rollers in about 10 minutes without damaging them. 500% time savings.
Welding Pliers
With the cryogenic cleaning in about 10-15 minutes the calamine is removed from the copper, rubber and aluminum surfaces without damage. 500% time savings.
Graffiti
With cryogenic cleaning in about 2 minutes per square meter, acrylic graffiti paints are removed from aluminum surfaces without damaging it.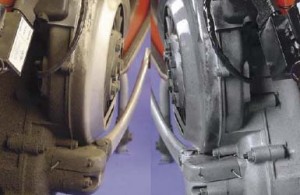 Engines
With cryogenic cleaning, oils and greases are removed from engines in about 15 minutes, without damaging the treated parts.
Cleaning of electrical panels
With cryogenic cleaning, in about 15 minutes, dust, dirt, soot and oil particles are removed from electrical conductors, relays and synthetic materials without damaging the treated surfaces.
Facade cleaning
In just about 1 minute per square meter, cryogenic cleaning removes moss, scales and environmental damage from concrete.
Petrochemical Industry
In about 30 seconds the bitumen present in the painted sheet metal signs is eliminated. 500% time savings.
Cleaning the Engine
Oil, grease and environmental dirt are completely eliminated in about 3 minutes, making the engine practically new.
Cleaning the baking plates
In about 2 minutes the combustion residues are swept away from the stainless steel.
Sectors of Use of Cryogenic Cleaning
Aerospace undercarriage components, aircraft parts, engines, electronic components etc.
Shoe factories removing release agents from molds
Cleaning carpentry in all production departments
Building cleaning of facades, care of monuments, cleaning of fountains, etc.
Government agencies , electricity, thermoelectric power plants, generators, escalators, chewing gum removal
Foundries removal of release agents and adhesives
Forge removal of release agents and adhesives
Oil Groups and Refineries Cleaning of tanks, pipe and pipe systems
Interior bleaching degreasing of walls, color removal
Automotive Industry / Induced removal of release agents, welding residues, cleaning of grease and color residues, cleaning of conveyor belts
Chemical Industry / Semiconductor Industry Immersion baths, systems of all kinds
Ceramic industry ceramic diving figures, machine parts
Polystyrene Industry The clogged holes can be released immediately
Food industry breweries, bakeries, dairies, butchers, abattoirs, cleaning of ovens, conveyor belts, tanks, machinery, malt mixing plants and the entire production sector
Synthetic Materials Industry mold cleaning, part deburring and tool cleaning
Electrotechnical industry cleaning of electrical panels, cleaning of transformers, cleaning of chips
Underground removal of graffiti, cleaning of tracks
Ships and boats cleaning of ship hulls, stripping, osmosis treatment, removal of moss, descaling, removal of rust
Production of tires removal of vulcanization residues on presses
Cleaning of Buildings and Roads, facades, walls, wooden frames, streets, floors, tiles, stones, graffiti removal
Remediation from Asbestos removal of residues on a bituminous basis
Restoration after fires restoration to its original state, cleaning of delicate components, removal of soot
Printing presses for cleaning rotation systems, development baths, deep print machines, color trays, printing accessories, anilox rollers, matrices, textile printing systems
Nuclear power plants cleaning turbines
Photo sensors removing silicone from lenses
Winding cleaning generators
Forestry removal of parasites from trees
Cleaning shipments of tanks and containers
Production of Sci removal of fats and the like during production
Electric motors cleaning and stripping of motors
Other uses cleaning stone stairways, floors, removing chewing gum from floors, environmental dirt and encrustations
At Indors you will find the best cryogenic sandblasters from Intelblast, a leading company in the sector. Do not hesitate to contact us for a quote or simply to ask for information.