Hot Water High Pressure Washers
The hot water pressure washer is the best solution for cleaning surfaces soiled by oil , grease or other organic substances . The high temperature and pressure of the water in fact dissolves the dirt in depth and guarantees perfect sanitation of the materials .
The hot water pressure washer is ideal for applications such as vehicle washing and the washing and sanitizing of stables and farms .
Water heating is normally obtained with the use of oil-fired boilers, however, for use in the food environment , those with electric heating can be used.
Why use a Hot Water Pressure Washer
The high operating temperature of the hot water pressure washer allows the most stubborn dirt to be eliminated with greater efficiency than cold water machines . Furthermore, another point in favor of hot water pressure washers is the drying time of the washed parts which is considerably reduced . It should also be taken into consideration that this cleaning power allows you to clean the surfaces most of the time without having to use any type of detergent, thus reducing cleaning costs.
If you have any doubts about which hot water pressure washer to buy, do not hesitate to contact us, Indors qualified technicians will be able to direct you to the purchase of the pressure washer that best suits your needs!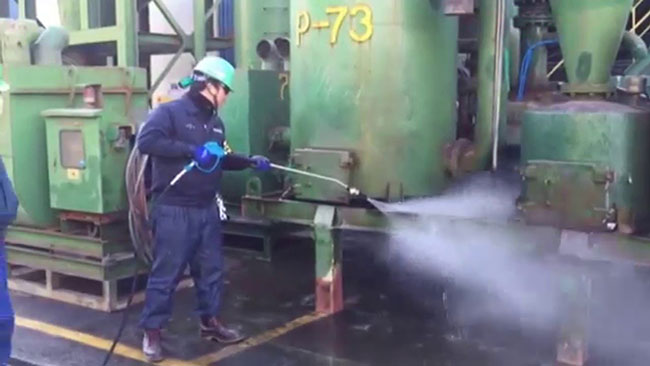 Hot Water Industrial Pressure Washer: Advantages
The hot pressure washer is a machine widely used in the cleaning of commercial and industrial environments that combines washing at high water flows and high pressure levels with the degreasing effectiveness of water at high temperatures.
These characteristics are particularly important when cleaning is aimed at removing substances from surfaces impregnated with grease and oil substances .
It is well known that cleaning surfaces soiled with industrial grease is not easy at all, much less if we rely on a rag, brushes and a bucket of water! :)
In these cases, even the use of a detergent is insufficient: in these cases the industrial hot water pressure washer is the solution to all problems, allowing cleaning to be completed with the minimum effort and in the shortest time .
Hot pressure washers are much more effective than cold water ones in degreasing operations . In fact, if we use cold hydro to remove a greasy stain the result will be unsatisfactory with an oily surface layer like a wax that will retain dirt even more and make cleaning more and more difficult.
In these cases, the hot water pressure washer, by spraying water and steam at 140 degrees, dissolves grease stains and completely eliminates dirt.
The most common application of industrial hot water pressure washers in food production plants. Today's very sophisticated machines are capable of working with steam.
Hot water pressure washers for domestic use
For non-heavy use, the pressure washers of this range usually do not exceed 90 ° C in temperature and have a cost ranging from about € 490 up to € 900 for the most equipped models.
Semi-professional Hot Water Pressure Washers
Qualitatively better than the domestic ones, the semi-professional hot water pressure washers boast higher flow rates as well as features such as brass head and accessories, they are suitable for domestic uses with greater performance than domestic ones. Semi-professional hot water pressure washers range from € 700 to € 1500 approximately.
Professional Hot Water Pressure Washers
For heavy use, professional hot water pressure washers reach high pressure water temperatures from 100 to 150 ° C, have flow rates up to 1500 L / h and pressures up to 200 bar. The low number of revolutions guarantees superior operation and reliability even in severe conditions.
Industrial Hot Water Pressure Washers
Over 200 bar of pressure with flow rates up to 3000L / h are useful for cleaning cold storage facilities, slaughterhouses, fish and butchers, sugar processing plants, bottling plants, food cutting, evaporators, storage tanks. milk, centralized dairy systems etc.
Why buy at Indors
Indors boasts over 20 years of experience in the sale of professional hot water pressure washers, providing in addition to the sale a valid Assistance and Repair Service with the Authorized Assistance Center.
The advantages of hot water pressure washers
With hot water, pressure washers clean with even better results without having to increase the pressure. Kärcher machines impress with their ease of use and the technology used in the production of its state-of-the-art products.